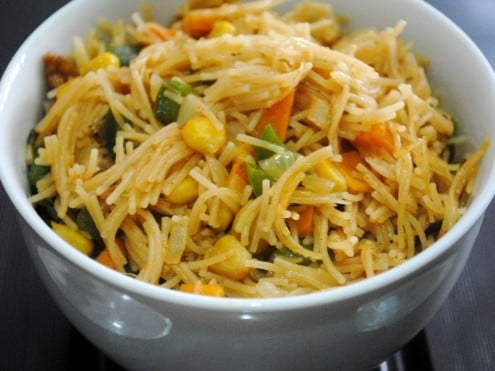 Ingredients:
Vermicelli 1 1/2 Cups
Potato 1 Small
Onion 1 Small
Bell Pepper 1 Small
Carrot 1 Small
Green Chillies 4
Fresh or Frozen Green Peas 1/2 Cup
Roasted Peanuts 2 tbsps
Yogurt 1 1/2 tbsps
Cilantro Few Sprigs
Salt to taste
Mustard Seeds 1/4 tsp
Cumin Seeds 1/4 tsp
Chana Dal 1/4 tsp
Urad Dal 1/4 tsp
Curry Leaves 5
Oil 1 tbsp
Method of preparation:
Peel, wash and finely chop the potato, onion and carrot.
Wash, remove stem, discard seeds and finely chop the bell pepper.
Remove stems, wash and slice the green chillies.
Wash and finely chop the cilantro.
Heat a pan on medium heat, add vermicelli and roast until it turns light golden color.
Bring to boil few cups of water in a sauce pot, add a tsp of oil, few pinches of salt.
When the water comes to a boiling point, add vermicelli.
Boil vermicelli for around 2 minutes or until it is cooked with a slight bite.
Immediately strain the cooked vermicelli and refresh with cold water.
Heat oil in a pan on medium low heat, add all talimpu ingredients in order.
When chana dal turns light brown, add green chillies, potato and onion.
Once onion turns translucent, add carrot, bell pepper, green peas and salt.
When carrot turns soft, add strained vermicelli and yogurt.
Mix carefully and cook for a minute or two to let vermicelli absorb all the flavors.
Garnish with chopped cilantro and serve vermicelli upma.