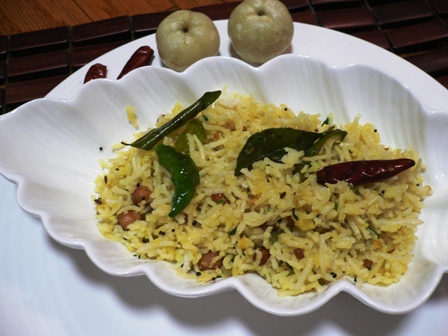 Ingredients:
Raw Rice 1 1/2 cups
Gooseberry (Fresh or Frozen) 5 – 6
Grated Coconut 1/2 Cup
Green Chiles 4 – 5
Turmeric Powder few Pinches
Salt to taste
Mustard Seeds 1/2 tsp
Cumin Seeds 1/2 tsp
Chana Dal 1/2 tsp
Urad Dal 1/2 tsp
Broken Red Chiles 5
Asafoetida a pinch
Curry Leaves 6
Oil 1 tbsp
Method of preparation:
Wash and chop the gooseberry around the seed and discard the seed and chop up the flesh.
Remove stems, wash and slice the green chiles.
Grind chopped gooseberry, coconut, green chiles and salt into paste adding enough water.
Refresh rice with water and cook in 3 cups of water until all the water has been absorbed and rice turns soft.
Fluff up the rice on a wide plate and keep aside.
Heat oil in a pan, add all talimpu ingredients in order.
When mustard seeds start spluttering, add ground gooseberry paste and turmeric powder.
Cook till the raw smell of the gooseberry and the green chile is gone (around 3 mintues).
Stir in steamed rice and fry for a minute or two to let the rice absorb all the flavors.
Cover and remove from heat.
Serve gooseberry rice immediately with raita or with any pickle.