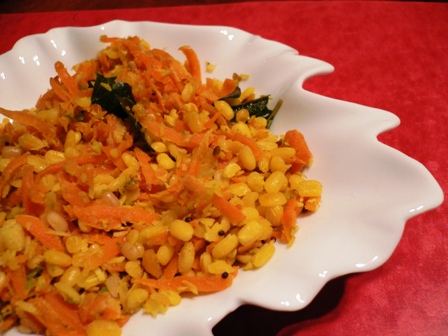 Carrot Fry Ingredients:
1. Carrot – 5 medium size
2. Toor dal – 1 cup cooked
3. Green chillies – 2 or to taste
4. Turmeric powder – ½ tsp
5. Curry leaves – 5
6. Mustard seeds- ½ tsp
7. Urad dal – ½ tsp
8. Oil – ½ tbsp
9. Salt – to taste
Carrot Poriyal Preparation:
Peel and cut the carrots into small pieces and keep it aside.
Cut the green chillies into two or three pieces and keep it aside.
Take a pan and heat with oil.
Add mustard seeds.
When they start to crackle adds urad dal and curry leaves.
Then add carrot pieces, green chillies, turmeric powder and salt.
Close with a lid and cook on low flame.
When the carrot pieces are almaost cooked add cooked toor dal and sauté for few more mins.
Remove from heat.
Carrot poriyal is ready to eat.
Serve with plain white rice, sambar rice, etc…