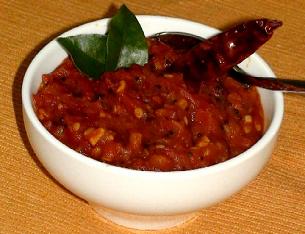 Ingredients:
Tomato 2 Large
Green Chiles 1
Coriander Seeds 1/4 tsp
Cumin Seeds 1/8 tsp
Garlic 1 Small Clove
Turmeric Powder a Pinch
Salt to taste
Oil 1 tsp
Method of preparation:
Wash and finely chop tomato.
Remove stem, wash and roughly chop green chile.
Peel and roughly chop the garlic.
Grind coriander seeds, cumin seeds into fine powder using a spice blender.
Add green chiles and garlic and grind again.
Heat oil in a pan on low flame, add ground spices and fry for a minute.
When spices are aromatic and thoroughly fried, stir in chopped tomato, turmeric powder and salt.
Cook covered till tomato is very soft.
Uncover and cook till tomato chutney reaches the desired consistency.
Remove the spicy tomato chutney onto a plate and serve with rice or with roti.