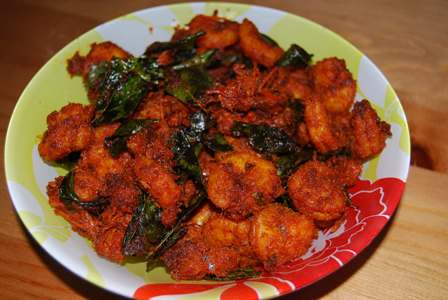 Prawn roast ingredients:
1. Prawns – 500g
2. Onion (big) – 2 finely chopped
3. Tomato – 1 finely chopped
4. Chilli powder – 2 tsp
5. Coriander powder – 1 tsp
6. Turmeric powder – ½ tsp
7. Mustard seeds – 1 tsp
8. Curry leaves – few
9. Coriander leaves – for garnishing
10. Oil – 5 tbsp
11. Salt – to taste
Prawn roast preparation:
Peal the outer layer skin and head of the prawns.
Clean, wash and keep it aside.
Take a pan and heat with 5 tbsp of oil.
Add mustard seeds.
When they start to crackle add onions and curry leaves.
Sauté till the onion colour turn into brown.
Then add chopped tomatoes and salt.
Sauté till the tomatoes turn into juicy.
Then add chilli powder, coriander powder and turmeric powder.
Sauté for few seconds.
Now add the prawns and combine well.
Then add 1 cup of water and once again combine well.
Cover with a lid and cook till the prawns are tender.
Finally garnish with coriander leaves.